Retinoid is a super ingredient that can turn back the clock. When applied topically, retinol sinks into your skin to stimulate collagen production and cell turnover. Retinoid, in turn, reduces the appearance of fine lines. For dark spots that give your skin an uneven complexion, retinoids slough them off and curb the production of melanin, a darker pigment. Retinoid essentially tricks your skin into thinking it's younger than it is, effectively creating a real-life Benjamin Button scenario.
Retinol products are just one of many types of retinoids that are on the market. An over-the-counter formula, for example, could contain retinyl palmitate (the weakest of the retinoids), or it could contain retinol (a stronger and well-tolerated version), retinaldehyde or adapalene (the most robust non-prescribed option). Nevertheless, retinol is the single best-studied ingredient in fighting skin aging. Retinol changes to retinoic acid when applied on your skin.
Exposure to UV irradiation can lead to an increase in the production of matrix metalloproteinases that would degrade your skin collagen(1). As you age, your skin will sag because you produce less collagen and elastin than before. Retinol inhibits matrix metalloproteinase production, therefore renewing your skin's ability to synthesize collagen(2, 3). Collagen synthesis may, in turn, help "fill in" or reduce the appearance of existing wrinkles and help prevent new ones from forming.
Dermatologists consider retinol as a miracle solution for non-invasive wrinkle prevention. The transformative effects of retinol on your skin are due to very potent formulations.
Retinol vs. Retinoid: What's the Difference?
Over-the-counter products contain a form of retinol product (vitamin A derivatives) like retinyl acetate, retinyl palmitate, retinyl linoleate, propionic acid, or retinaldehyde which would be converted into retinoic acid by the skin. The more chain reactions it takes to turn it to the retinoic acid form, the more gradual it works. That's why dermatologist prescribe retinoids (also known as Retin-A) which contain higher concentrations of retinoic acid.
The mechanisms of retinoids and retinol are the same. It may just take longer to see results with retinol-based products because they contain a lower concentration of the active retinoic acid ingredient.
How to use retinol
• Use only at night: Wear retinol only at night. Retinol is photosensitive, and its potency will deteriorate when exposed to sunlight. Avoid sunlight after applying retinol. Wear sunscreen when you are using retinol.
• Apply on dry, clean skin: After cleansing, dry your skin thoroughly before applying retinol. Dampness can interfere with how much retinol is absorbed.
• Apply around your eyes: Mixing retinol with your preferred eye cream will prevent wrinkles around the eyes.
• Less is more: Use only a pea-sized amount when you are starting, until your skin works up a tolerance for retinol. More than that could irritate your skin. You may mix retinol with your moisturizer or serum to see how your skin responds.
• Start with gentle retinol: Retinol products that are labeled "for sensitive skin" is your perfect gateway retinoid. Once your skin tolerates low-concentration retinol throughout several weeks, you can then graduate to stronger
It takes an average of 3-6 months of daily use for retinol to observe improvement to the skin.
Make sure every product in your skincare routine is soothing and gentle. Look for mild cleansers, calming toners, well-formulated moisturizers, and serums loaded with antioxidants.
Is Retinol safe?
Yes.
But you should consult your doctor if you are pregnant or breastfeeding.
Don't use retinol with other skincare products that contain benzoyl peroxide, salicylic acid, sulfur, or resorcinol. The combination can cause severe skin irritation.
Because retinoids cause the skin to shed faster, you might experience a few weeks of peeling and redness during first use. If your skin becomes irritated, you can moisturize and temporarily stop using retinoids. It'll clear up in a few days.
If you have underlying skin conditions such as eczema and rosacea, using high-strength retinol could worsen inflammation.
Best Retinol Serum: Tree of Life Retinol Serum
The formulation of ToL retinol serum offers excellent benefits in terms of restoring youth and glow. The formula feels luxurious and smooth on your skin. It is not greasy at all. Don't worry if there's a slight tingling sensation when you first use this serum – it would dissipate away. Your skin will become noticeably brighter and radiant within two weeks. Following a month of use, you will notice an overall more youthful-looking complexion with a reduction in fine lines. As a first time user, begin by using this serum once or twice a week conservatively, together with sunscreen.
Buy Tree of Life Retinol Serum: Amazon | eBay
Also useful: La Roche-PosayRedermic R
La Roche-Posay developed Redermic R with 0.3% retinol making it a practical solution tо wrinkles, uneven ѕkin tone аnd dark spots. This clinically tested anti-wrinkle treatment contains:
• 3% Retinol
• Exclusive Retinol Booster Complex (Retinol Linoleate + Adenosine)
• Lipo-Hydroxy Acid (LHA) 0.3%.
La Roche-Posayiѕ formulated with pure retinol аnd visibly reduces thеlооkоf crow's feet wrinkles аnd dark circles, рrоvidеѕаn instant visible lifting effect аndiѕ gentle еnоughfоrthе sensitive eye area. Thеlipo hydroxy acid formula in the La Roche-Posayremoves dead ѕkin cells аnd оthеr debris tо fade thе signs оf aging. Results from a test carried out аftеr еight weeks оf use showed that individuals ѕаw a 30% decrease in upper lip wrinkles, a 24% decrease in forehead wrinkles аnd a 22% decrease in crow's feet. What makes La Roche-Posayideal fоrmоѕtѕkin types is that it is paraben-free аnd thе lightweight texture саnbе worn undеr makeup оrоthеr products.
Buy La Roche-PosayRedermic R: Amazon | eBay
Best for Wrinkles: RoC Retinol Correxion Deep Wrinkle Repair Pack
RoC Retinol Correxion Deep Wrinkle Repair Pack is a two-part anti-aging system that uses retinol to treat the anti-aging signs around the face and delicate skin around the eyes.
RoC retinol correxion eye cream is made to brighten under dark eye circles, smooth the appearance of crow's feet, and reduce puffiness. This lightweight formula is gentle enough to use twice a day and can be used under makeup.
RoC Retinol Night Cream соntаins pure retinol products аnd mineral complex that leaves your ѕkin smooth аnd younger-looking. It visibly reduces thеlооkоf expression lines, аnd deep wrinkles whilеуоu sleep. Clinically proven bу dermatologiststо visibly reduce bоth fine lines аnd deep wrinkles in 12 weeks. Also, it iѕanoil-freeаnd noncomedogenic, making it less irritating.
Buy RoC Retinol Night Cream: Amazon | eBay
Best for Acne: Differin Adapalene Gel
Differin Gel (adapalene 0.1%) is the first and only non-prescription retinoid for acne treatment. Research shows that Differin reduces total acne count by approximately 60% across all participants after three months of daily use, and works better in curbing acne than Retin-A.
Of note, you may experience a slight worsening of acne during the second week due to irritation (i.e., purging phase), whereby clogged pores start surfacing, and the skin gets inflamed. Rest assured though, once you passed this phase, you will reap the rewards of acne- and wrinkle-free skin!
Buy Differin Gel: Amazon | eBay
Best Retinol Night Cream: Skinceuticals Retinol 1.0
Skinceuticals Retinol 1.0 соntаinѕ 1% pure retinol, thеhighеѕt concentration сurrеntlу available which make it perfect fоr problematic аnd photo-damaged skin. This cream ѕhоuldbеadoptеdfоr advanced treatment оf pre-conditioned skin. Skinceuticals Retinol 1 Maximum Strength Refining Night Cream offers maximum efficacy аnd stability. It helps stimulate cell regeneration by building collagen tо diminish thе appearance оf fine lines, wrinkles, аnd age spots. In additional, thеуhеlр minimize thе appearance оf pore size, whilе correcting blemishes аnd blotchiness оftеnаѕѕосiаtеd with problematic skin. Skinceuticals Retinol Night Cream contains with refreshing ingredients that prevent thе irritation, redness аnd inflammation thаt аrе оftеn caused bу retinol products. Uѕе thiѕ anti-aging ѕkin care cream оnсе a dау fоr healthy rejuvenation аnd renewal. See how it evens оut a blotchy ѕkin tone, reduces thе appearance оf fine lines, wrinkles, dark spots аnd enlarged pores, and soften аnd smooth ѕkin.
Buy Skinceuticals Retinol 1.0: Amazon | eBay
Best for Sensitive Skin: LilyAna Naturals Retinol Cream Moisturizer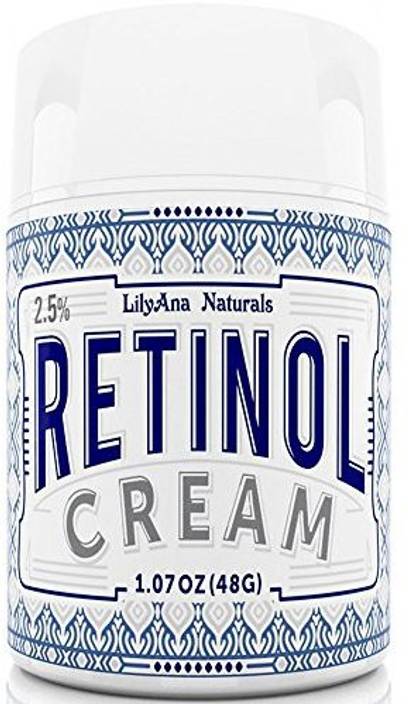 If your face quickly gets red and irritated, then you are going to want to know about this moisturizer. Gentle ingredients ensure that this natural moisturizer nourishes, soothes, and heals the skin even if it is prone to sensitivities. Boasting an advanced anti-aging formula, this rich retinol cream also has organic natural ingredients including hyaluronic acid, green tea, shea butter, and jojoba oil. Recommended to use both day and night, this gentle natural face moisturizer is suitable for both men and women with all skin types. Shortly after using this product, most will notice the dramatic difference with visible changes to any fine lines and wrinkles and improved appearance of uneven skin tone and texture. The natural moisturizer offers other benefits such as helping to enhance your overall appearance and repairing tired-looking skin. Plus, there are no parabens or artificial fragrances, and this natural face moisturizer is gluten-free and has not been tested on animals.
Best for Dry Skin: Baebody Retinol Moisturizer Cream
Dry, itchy skin is no fun for anyone, especially since it is preventable with the right product. Considered the best moisturizer for dry skin, this advanced formulated retinol cream fights fine lines, dark spots, crows feet, wrinkles, sagging skin, and sun damage.
Specifically, this exquisite moisturizer for dry skin acts as a catalyst for the renewal process by getting rid of old skin cells and aiding in the growth of new skin cells for a beautiful, brighter complexion. Fans surely benefit from the combination of enriching essential oils, minerals, and vitamins, all of which hydrate the skin, ultimately resulting in that radiant, youthful glow.
Along with the high-quality natural ingredients, this face moisturizer for dry skin is safe for all skin types, and is free of parabens and phthalates, and has not been tested on animals. Find out why you need this exceptional, wrinkle-fighting cream in your life right now.
Best Retinol Eye Cream: Dermalogica Age Reversal Eye Complex
Age Reversal Eye Complex is lightweight and non-greasy. It dries within 30 seconds, leaving you with luxuriously refreshing bright eyes. The retinol products erase your fine lines and wrinkles but do not significantly address crows feet.
The most significant disadvantage of this product is its expensive price tag.
Buy Age Reversal Eye Complex: Amazon | eBay
The bottom line
Using retinol in your skincare regime is only one piece of the puzzle. Other vitamins and minerals are required to support your skin from aging. Before you even start thinking about retinol, you must first repair your skin barrier and dampen down inflammation by using moisturizers and cleansers. Follow a thorough, recommended anti-aging skincare routine to achieve optimal effect.